How to Make an Origami Box
Isn't it awesome that a piece of paper can be transformed into a handy dandy origami box with just a few well placed folds? Since it's so awesome, it almost appears to be impossible, but let me tell you it's totally possible and I'm going to show to you exactly how it can be done. Afterwards, I'll show you how to make a lid for it. After all, what's a box without the lid. Yeah baby!
Just follow the easy step by step instructions and you'll be able to make this origami box. It's not hard at all, but you'll need to look at the pictures carefully to make sure you're doing everything correctly.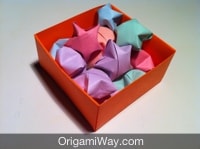 Follow the instructions below to make this Origami Box
Difficulty: Medium
Step 1: Start with a square piece of origami paper. If you only have regular 8.5x11 paper, follow these instructions to make a square sheet.
Step 2: Fold the paper in half from top edge to bottom edge, then unfold.
Step 3: Fold in half again from left to right, then unfold.
Step 4: Fold all four corners to the center.
Step 5: Rotate the paper so it becomes a square.
Step 6: Fold the top and bottom edge to the center, then unfold.
Step 7: Unfold the top and bottom triangles.

Click "Next" to continue learning how to make an origami box.
Submitted by Hayley Chan
Submitted by Megan De Costa
Submitted by Savannah Brown
Submitted by Aneeza Rafiq
Show off your origami! Email your origami photo to origamiway@yahoo.com!