Origami Butterfly Instructions and Diagrams
This origami butterfly is absolutely beautiful and looks even better with nice origami paper. The wings spread out nicely and the body comes up a little to give it a more realistic look. The head adds another dimension of realism and if you like, you can make and attach some antennas for a more complete look.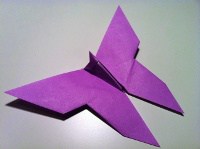 Origami Butterfly
by Atsushi Tajiri
Difficulty: Easy-Medium
Step 1: Start with a square piece of origami paper. If you only have regular 8.5x11 paper, follow these instructions to make a square sheet.
Step 2: Fold the paper in half by folding the upper left corner to the lower right corner.
Step 3: Unfold.
Step 4: Fold in half again by folding the upper right corner to the lower left.
Step 5: Unfold.
Step 6: Fold in half again by folding the top half back.
Step 7: Unfold.
Step 8: With your finger, push down on the middle so that it pops in.

Click "Next" to continue making the origami butterfly.
Submitted by Yarilis Martinez
Show off your origami! Email your origami photo to origamiway@yahoo.com!