Easy Origami Flowers Instructions for Kids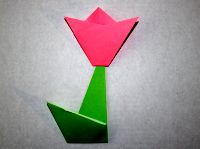 Follow the instructions to fold an easy origami flower for kids.
Difficulty: Easy!
Here's an extremely easy origami flower for kids. Your kid will be able to make one in just a few steps. After making this one, check out some other easy origami flowers or take on the challenge of more advanced ones.
Step 1: Begin with a square sheet of origami paper and rotate it like a diamond with color side down. If you only have regular 8.5x11 paper, follow these instructions to make it square.
Step 2: Fold the bottom corner to the top corner.
Step 3: Fold the left corner to the right corner.
Step 4: Unfold.
Step 5: Fold the right side to the left like so.
Step 6: Fold the left side to the right like so.
Step 7: Fold back the bottom corner. Almost done!.

Go to Next page to continue making this easy origami flower for kids.