How to Make a Box Out of Paper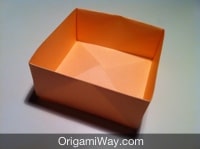 Follow the instructions to learn how to make a Box out of paper.
Difficulty: Medium
In this page, I'm going to teach you how to make a box out of paper. That's right. I'm going to show you how to take a flat sheet of paper and transform it into something three dimensional and useful. You'll be able to store all your small personal items and even cover it with a lid that I'll also show you how to make after this.
Just follow the instructions carefully along with the step by step pictures and you shouldn't have any problem learning how to make this box. The lid is also just as easy. So have fun!
Step 1: Start with a square piece of origami paper. If you only have regular 8.5x11 paper, follow these instructions to make a square sheet.
Step 2: Fold the paper in half from top edge to bottom edge, then unfold.
Step 3: Fold in half again from left to right, then unfold.
Step 4: Fold all four corners to the center.
Step 5: Rotate the paper so it becomes a square.
Step 6: Fold the top and bottom edge to the center, then unfold.
Step 7: Unfold the top and bottom triangles.

Go to Next page to continue learning how to make a box out of paper.