How to Make a Paper Balloon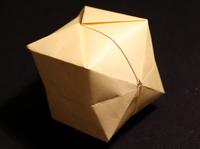 Learn how to make a Paper Balloon with instructions below.
Difficulty: Medium
Love balloons and absolutely need to blow one up right now, but can't seem to find one anywhere? You looked high and low, under the seat, outside, and even in the trash and none can be found? Don't worry. I'm here to help you get what you need. See that paper under your foot? Pick it up and brush off the dirt. I'm going to teach you how to make a paper balloon that you can blow into.
Step 1: Start with a square sheet of origami paper, color side down. If you only have regular rectangular paper, follow instructions on how to make origami paper.
Step 2: Fold the bottom left corner to the top right corner, then unfold
Step 3: Now fold the bottom right corner to the top left corner, then unfold again.
Step 4: Fold the bottom half to the top half.
Step 5: Fold the right half to the left half.
Step 6: Lift the flap you just folded over to make it stand vertically, then open it along the diagonal creases and squash and flatten it down.
Step 7: Turn the figure over.

Go to Next page to continue learning how to make a paper balloon that flaps.