How to Make a Paper Heart?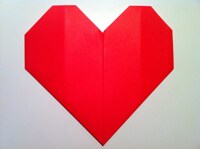 Want to show your love, but also want to save money at the same time? Learn how to make a paper heart for a gift and you will be adored for it.
Difficulty: Easy
They would rather have something you made with a personal touch than some diamond ring. Ok, not diamond rings, but you get the point. No money? No problem. Learn how to make a paper heart and you will know how to melt theirs.
If you are planning to surprise your spouse, parents, friends, or grandparents, include this origami heart as part of your gifts, and rest assured that their reactions will all be worth it, like when a child receives a surprise gift that they desperately want.
If you enjoy making this origami heart, check out the other origami hearts available.
The best way to express the gratitude and love you feel towards your loved ones, even if you do not have a big budget, is with this paper heart, which can be an inexpensive way to show how much you appreciate them. The paper heart you made will convey the love and appreciation you want to express to your loved ones. What are you waiting for? Get the only materials that will help you make a paper heart.
How to Fold a Paper Heart?
If you made up your mind to make a paper heart, you could do this with your kids, friends, or anyone else because the instructions below are simple and easy to follow. There is nothing to worry about if the instructions listed are not easy to understand, given the benefit of the doubt that this tutorial is kid-friendly.
Step 1: Start with a square piece of origami paper with white side up. If you only have regular 8.5x11 paper, follow these instructions to make it into a square sheet.
Step 2: Fold the paper in half by folding the top corner to the bottom corner, then unfold.
Step 3: Fold the left corner to the right corner, then unfold.
Step 4: Fold the top corner to the center.
Step 5: Fold the bottom corner to the top edge.
Step 6: Fold the bottom left and right edges to the center crease.
Step 7: Fold the top and side corners back. Now you know how to make a paper heart.

Click on "Like" below if you like this.
Congratulations, and give yourself a tap on the back for following the step-by-step folding instructions. Now you can include this precious paper heart in your surprise gift.
Video of how to Fold a Paper into a Heart