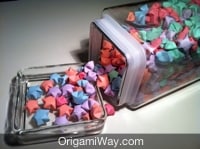 Follow the instructions to learn how to make Paper Stars
Difficulty: Easy-Medium
If you don't know how to make paper stars, you're missing out on a lot of fun. They're very easy to make and super fun as well. The steps are so simple that you'll just want to make more and more for your star collection. You'll need a pretty jar or make your own origami star box to hold all of your paper stars. Get out some colorful pieces of paper so we can begin now!
Step 1: Start with strip of paper or ribbon. To cut out a straight strip of paper, first fold a small strip and then cut with scissors.
Step 2: Tie a knot at the top as shown.
Step 3: Flatten the knot (Make sure the knot is not loose).
Step 4: Tuck the loose end into the pocket of the knot.
Step 5: Fold the long leftover strip along the edge of the pentagon shape.

Go to Next page to continue learning how to make paper stars.