How to Make an Origami Box Lid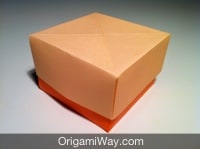 Follow the instructions below to make this Origami Box Lid
Difficulty: Medium
Did you already make the origami box? If not, go make one now because you'll need a box in order to use the lid. If you already have the box, then jump right into Step 1 and start the folding fun.
The origami box lid is just as easy as the box. In fact, it has almost the exact same steps except for some tweaks here and there. If you were able to succesfully fold the box, then you should be able to fold the lid.
Step 1: Start with a square piece of origami paper. If you only have regular 8.5x11 paper, follow these instructions to make a square sheet.
Step 2: Fold the paper in half from top edge to bottom edge, then unfold.
Step 3: Fold in half again from left to right, then unfold.
Step 4: Fold all four corners to the center.
Step 5: Rotate the paper so it becomes a square.
Step 6: Fold the top and bottom edge toward the center, BUT leave a gap so the edges do NOT touch the center. Unfold after you're done.
Step 7: Unfold the top and bottom triangles.

Go to Next page to continue learning how to make an origami box lid.

Origami Box