Origami Dragon Instructions and Diagram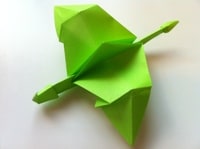 Origami Dragon
created by Eric Ha
Difficulty: Medium
I designed this origami dragon so I may be biased ;), but I have to say that this is one of the coolest looking ones while being one of the easiest to fold. Besides being entirely foldable and not too complex, it can also flap when you pull its tail! It looks awesome, it's easy to fold, and you can play with it. You must fold it today!
The pictures really don't do it justice. Yes, there's the neat little horned head and cool dragon tail, but the wings stand out above all with it's mid flight curvature and gothic form. Fold it and see for yourself how this origami dragon can be so simple, yet so awesome.
The folds are pretty simple and the pictures are pretty self explanatory. The trickiest fold is probably the wing, but the step by step instructions should guide you through it because it's really not hard at all. Read the steps and look at the images carefully and you'll get this awesome origami dragon flapping in no time.
Step 1: Start with a square piece of origami paper. If you only have regular 8.5x11 paper, follow these instructions to make a square sheet.
Step 2: Fold the paper in half by folding the top corner to the bottom corner.
Step 3: Now fold the triangle in half by taking the left corner and folding it to the right.
Step 4: Open and spread the top flap, then crease the left and right sides so you can flatten the flap down.
Step 5: Turn the paper over so we can repeat the last step.
Step 6: Make the left flap stand vertically, then open and squash down.
Step 7: Fold the top layers of both sides to the center.
Step 8: Now fold the top triangle down.

You're on your way to making an origami dragon! Go to Next page to continue.