Origami Fortune Teller Instructions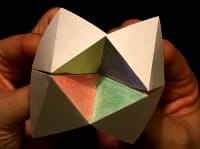 Learn how to make a paper fortune teller with instructions below.
Difficulty: Easy!
The origami fortune teller is popular among children because they get to write in their own creative fortunes. This is how you play. Have a friend pick a number from one to ten, then (horizontally, then vertically) open and close the fortune teller as you count to the number. Stop when you reach the number. Now ask your friend to pick a color. Then open the flap of that color and read the fortune underneath..

Step 1: Start with a square sheet of origami paper, color side down. If you only have regular rectangular paper, follow instructions on how to make origami paper.
Step 2: Fold the bottom left half to the top right half, then unfold.
Step 3: Now fold the bottom right half to the top left half, then unfold again.
Step 4: Fold in half again by folding the bottom half to the top half, then unfold.
Step 5: Fold the left half to the right half, unfold again. Now you have lines going every direction.
Step 6: Take all four corners and fold them to the center.

Go to Next page to continue learning how to make a paper fortune teller.