Origami Jumping Frog Instructions and Diagrams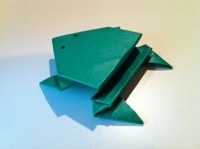 Follow the steps below to make this Origami Jumping Frog.
Difficulty: Medium
Follow these origami jumping frog instructions to make one yourself. It's really cool to see it in action and really fun to play with. Just press on its back and watch it hop.
It's not hard to learn how to make an origami frog that jumps. Diagrams and eays step by step instructions are provided to guide you along the way. If this is for a child to fold, there's an even easier one available. Click here easy origami frog for it.
Step 1: Start with a square piece of origami paper, but if you only have regular 8.5x11 paper, follow these instructions to make a square sheet.
Step 2: Fold the paper in half by folding the left side over to the right.
Step 3: Fold the left corner to the right side, creating a sharp point on the top/right corner.
Step 4: Unfold.
Step 5: Fold the right corner to the left side.
Step 6: Unfold.

Go to Next page to continue making the origami jumping frog.