Paper Butterflies and Origami Butterflies
Paper butterflies are one of the most beautiful things you can make with just a sheet of paper. Here we have two different paper butterflies that you can make. The first one is a realistic looking butterfly that is sure to impress your friends and is not very hard to make. It has four wings and a head, just like the real thing!
Origami Butterfly
The second paper butterfly is a little smaller and can actually flap! It doesn't look as real as the one above, but if you can design the wings well, it can look just as beautiful. Although it doesn't look like the real thing without some artistic work put into it, it moves like the real thing. Another plus is that this butterfly is easy to make.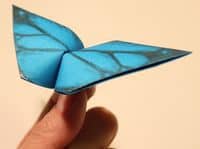 How to make an origami butterfly
Well, have fun learning how to make paper butterflies! No matter which one you choose, I'm sure you'll enjoy making it. Don't forget to send in your origami so I can show it off to the world.