Paper Crane Instructions and Diagram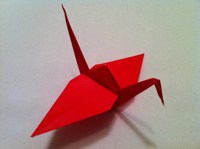 Follow the steps to learn how to make a Paper Crane.
The paper crane is perhaps the most popular model of origami and there's little reason to debate that. It's beautiful, it's intriguing, and you don't have to be an expert to fold one. If origami is a passion of yours or even just a casual hobby, the paper crane is one model that you absolutely need to know how to make.
Although you don't have to be an expert to fold it, there are many steps you must take before your paper crane is realized...young grasshopper.
As you move up the steps, I will be right there to guide you and instruct you. I will fold the paper crane alongside you (with images below) so that you can watch, learn, do, and succeed. People say the first step is usually the hardest, but not with me, young grasshopper. With me, the first step is the easiest, which is...Get out a piece of paper.
Step 1: Start with a square piece of origami paper. If you only have regular 8.5x11 paper, follow these instructions to make a square sheet.
Step 2: Fold the paper in half from the top corner to the bottom corner. Use your nails to make a sharp crease.
Step 3: Fold in half again by folding the left corner to the right corner.
Step 4: Open the upper layer and squash down as shown.
Step 5: Turn the paper over so we can do the same thing to the other side.
Step 6: Lift the left flap up vertically and squash this flap also.
Step 7: Grab the left and right side of the flap and open it up. Crease the sides so you can fold the top corner down to the bottom.
Step 8: Fold the left and right lower edges of the upper layers to the center, then unfold. You should end up with creases like this picture.

Go to Next page to continue making the paper crane.