Simple Origami Rose With Easy Instructions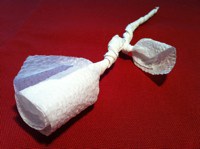 Follow the steps below to make this Simple Origami Rose.
Difficulty: Easy
Want to make your mom or significant other happy? Grab a napkin and with just a few twists, you'll be able to make a beautiful, but simple origami rose. No fancy paper necessary.
Step 1: Get out a piece of napkin. Regular paper also works, but a napkin will look better.
Step 2: Roll up the napkin like this.
Step 3: Form the rose petals by pinching near the top.
Step 4: While pinching with one hand, Roll below the rose with your other hand.
Step 5: Grab a bottom corner and lift it up to one side from the bottom of the napkin.
Step 6: Start rolling up and twisting from the bottom of the rose.
Step 7: As you roll up, leave the loose corner hanging to the side. This will be used for the leaf.
Step 8: Twist the base of the leaf so it can be more defined. It's now ready to make a lady happy.

Click on "Like" below if you like this simple origami rose!