Instructions for How to Make a Simple Origami Sunflower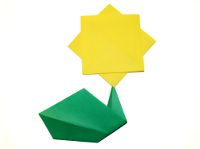 Follow instructions to learn how to fold a simple origami sunflower.
Difficulty: Easy!
Learn how to make a simple origami sunflower with these easy step by step photos and instructions. You can make one in just a few short steps.
Step 1: Begin with a square sheet of origami paper with color side down. If you only have regular 8.5x11 paper, follow these instructions to turn it into a square.
Step 2: Fold paper in half from the left to the right, then unfold it.
Step 3: Fold it in half again by folding the top to the bottom, then unfold again.
Step 4: Fold the top left corner to the center.
Step 5: Fold the other three corners to the center. It should look like this when you're done.
Step 6: Take a flap and fold outwards like this.
Step 7: Fold out the all of the other flaps.
Step 8: Turn the paper over.

Go to Next page to continue with the simple origami sunflower instructions.