How to Make an Origami Paper Rocket with Instructions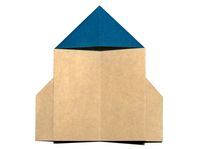 Learn how to make an origami rocket with instructions below.
Difficulty: Easy!
Blast off with this origami rocket! Just kidding, it's flat and doesn't fly, but it doesn't take a rocket scientist to make. It's great for crafts and gluing on to posters. Kids will have a lot of fun with this one.
| | |
| --- | --- |
| | Step 1: Start with a square sheet of origami paper, color side down. If you only have regular paper, follow instructions on how to make origami paper. |
| | Step 2: Fold the paper in half, left to right, and unfold. |
| | Step 3: Now fold the paper in half again, top to bottom, and unfold again. |
| | Step 4: Fold the top edge to the center. |
| | Step 5: Turn the paper over. |
| | Step 6: Fold the top left and right corners to meet at the middle |
| | Step 7: Fold the left and right edges to meet at the middle. We'll fold out these flaps next. |
| | Step 8: Fold about 2/3rds (two thirds) of the left and right flaps out. |
| | Step 9: Turn the figure over and now you have a rocket! |