Halloween Origami Paper Crafts
Paper crafts remain a passion! This article has a massive selection of paper Halloween crafts and some fantastic easy origami for kids, as you may already be aware. Halloween origami is one-way parents may spend time with their children while also saving money instead of purchasing designs.
However, if you're looking for Halloween-specific easy paper folding for kids ideas, you've come to the correct spot. Halloween is the time of year to be eerie, terrifying, and creepy. Looking for a Halloween paper project that you can have fun with? Origami projects for Halloween are great. They not only look fantastic and are appropriately creepy, but they also cost next to nothing to make. These kid-friendly origami projects are excellent for both young children and novice paper folders.
Adorable black cats. They are still simple to construct, and little origami cats are adorable. Create a few black cats, and then tuck them up behind these amazing doodle origami witch hats. A paper, sticker, and pen-decorated kids' origami pattern that is incredibly simple.
These Origami Bats are OH SO FUN in addition to being simple. Yes, you can use them as wall and window decorations for Halloween or transform them into Origami Corner bookmarks (with a bit of a snip here and there)! How much we adore kids' simple Halloween origami. Such a great Halloween craft using paper folding.
These free origami instructions are provided to help you save money this Halloween and allow you to enjoy doing this with your loved ones. Of course, just some colorful paper, scissors, and glue are needed for this craft. But don't be deceived by those stages; it's so easy even your children can do it.
How is Origami Used in Real Life, and Why is it Important?
While we commonly think of origami as a kind of art, businesses and researchers are increasingly turning to it to address challenging design issues in fields like public safety, robotics, architecture, space, and medicine—not to mention the military.
How Does Halloween Origami Help with Mental Health?
With exercise, origami offers both cerebral and physical stimulation. The brain is stimulated when the hands are used, which enhances short-term memory. Following a straightforward, step-by-step procedure that can be repeated and taught until success is attained provides a calming and relaxing impact.
Why Should Kids Do Halloween Origami Paper Crafts?
They encourage imaginative play and the exploration of materials like paper and paint in an open-ended setting. Additionally, it fosters their capacity for critical thought.
It fosters self-confidence by allowing kids to experiment with their ideas before ultimately finishing them themselves (and being pleased with them). It encourages environmental awareness by upcycling existing items rather than purchasing new ones daily.
What Size of Paper Should be Used for Halloween Origami?
For these paper bats, regular printer paper works beautifully. Use thin paper or a card instead; the majority of craft papers work well for this. Create your square paper with the utmost precision. You can also make a triangle out of normal paper by folding one corner and cutting it off.
How to Make Hallowen Origami?
Learn how to make halloween origami paper crafts that kids and adults can enjoy. It's the season to be spooky, scary, and creepy, and we have them all. If you feel like being watched, make a blinking eye to creep yourself out. Have friends who are scared of being eaten? Scare them with the chomper. Is your mother afraid of werewolves or witches? Surprise them with the claw! Have fun with these halloween origami and remember to stay safe at night.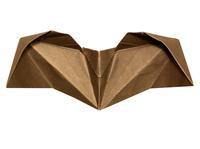 Origami Bat
Difficulty: Medium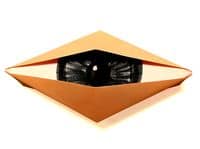 Origami Blinking Eye
Difficulty: Easy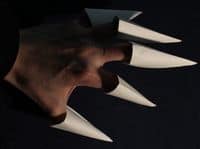 Origami Claws
Difficulty: Easy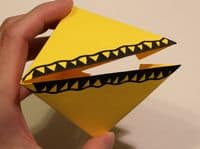 Origami Chomper
Difficulty: Medium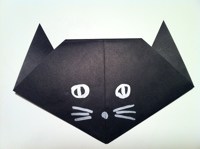 Easy Origami Cat
Difficulty: Easy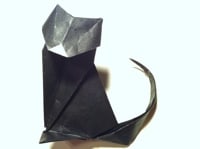 Origami Cat
Difficulty: Medium
Don't look now, but there's an invisible halloween origami bat floating right behind you. Muahahahahahaha!